Flexible Graphite Gasket Sheet and Laminate are made with high purity flexible graphite reinforced with metallic or non-metallic inserts. This is one of the most ideal gasket or sealing materials in the market. Flexible graphite provides excellent sealing properties, while reinforcement insert provides extra strength for high pressure applications, and better handling strength. There are two basic insert bonding types: adhesive bond and mechanically bond (metal tang clinched).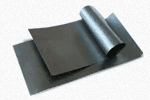 MATERIAL DATA:
Resistance to wide range of temperature:
300°F to 5400°F. in neutral or reducing media
300°F to 900°F. in atmosphere
Up to 1200°F. in steam
High compressibility, flexibility and conformable to irregular sealing surface
Low relaxation rate
High thermal and electrical conductivity
Resistance to most chemicals
Applicable pH value range: 0 – 14
APPLICATIONS:
Flange Gaskets
Filler for Spiral wound gaskets
Heat Exchange, Head and Exhaust gaskets
Heat and Corrosion Barriers
Electrically Conductive gaskets
Cyrogenic Seals
PRODUCT STYLES
GHL: Laminated industrial grade flexible graphite sheet no inserts.
GHR: Graphite Laminate with 316 SS foil insert.
GHP: Graphite Laminate with Mylar insert.
GHS: Graphite Laminate with 316 SS wire insert.
GHT: Graphite Laminate with tanged (perforated) stainless steel insert.
GHE: Graphite Laminate with tanged (perforated) tinplate steel insert.