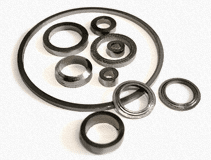 DFR, DIE FORMED GRAPHITE RINGS
Flexible graphite die-formed packing rings can be supplied square section, chamfered, split, matched halves and custom shapes. These die-formed rings are made from high purity expanded graphite foil , have outstanding chemical resistance and are unaffected by the majority of the chemical media within the industry. DFR also available in Nuclear Grade graphite.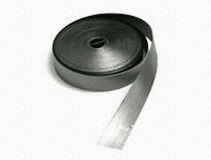 GRAPHITE RIBBON PACK
Flexible graphite Tape,self-lubricating and corrosion resistant. It is free from resins, fillers and binders. It is available in:
GTA: Nuclear Grade, which is 99.9% Pure.
GTB: Industrial Grade, which is 95% Minimum graphite content.
GTK: Industrial Grade with corrosion and oxidation inhibitors.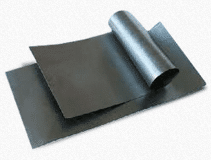 MATERIAL DATA
Resistance to wide range of temperature:
-300°C to 5400°F. in neutral or reducing media.
-300°C to 900°F. in atmosphere.
Up to 1200°F. in steam
High compressibility, flexibility and conformable to irregular sealing surface.
Low relaxation rate.
High thermal and electrical conductivity.
Resistance to most chemicals.
Applicable pH value range: 0 – 14.
APPLICATIONS
Flange Gaskets
Filler for Spiral wound gaskets
Heat Exchange, Head and Exhaust gaskets
Heat and Corrosion Barriers
Electrically Conductive gaskets
Cyrogenic Seals