CeraTex Ceramic Fiber Textiles
CeraTex Ceramic Fiber is alumino-silicate based refractory fiber, white and odorless. With reinforcement carrier (usually high temperature fiber glass), the fiber is made into industrial textile products: Cloth, Tape, Twisted Rope, Square and Braid, Yarn etc.
CeraTex resists temperature as high as 2300º F. This material is lightweight and has very low thermal conductivity. It provides excellent insulation at high temperature. It also resists corrosive chemicals, commonly used acid and alkali. The fiber is strong and abrasive. It can be used in tough environment. CeraTex is a good substitute of asbestos products in many insulation and sealing applications.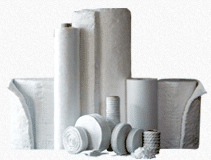 Chemical and Physical Data:
Chemical Composition (refractory fiber only): Total Al2O3 and SiO2 >97% (Al2O3: 47%); Fe2O3: < 1.1% Fiber Physical Properties: Fiber Diameter 2 – 4 microns; Fiber Length 100 – 250mm; Refractory fiber content >85%
Fiber Shrinkage (1800°F, 3h) < 3.5%;
Weight Loss(1800°F) 8-10%
Working Temperature:
1,800 °F. for Continuous Use; 2300 °F Maximum
Product Styles:
SGC-5110 Cloth: Standard Size: 39.4" x 33 Yard (1m x 30m)
5110W with Fiber Glass and Inconel Wire Insert 1/16"(.080") thick/33 oz; 1/8"(.120") thick/43 oz
5110G with Fiber Glass Insert (No wire) 1/16"(.080") thick/30 oz; 1/8"(.120") thick/41 oz
SGC-5120 Tape: Tape Standard Width: 1", 2", 3", 4"; Standard Length: 100' (30 m)
5120W with Fiber Glass and Inconel Wire Insert 1/16"(.080") thick; 1/8"(.120") thick
5120G with Fiber Glass Insert (No wire) 1/16"(.080") thick; 1/8"(.120") thick
5120D Drop Warp (Bolt Hole) 1/16"(.080") thick; 1/8"(.120") thick
SGC-5130 Twisted Rope: 3-strand roving twisted rope.
Sizes: 1/4″, 3/8", 1/2″, 5/8", 3/4″, 7/8", 1", 1-1/4", 1-1/2", 2", 3"
SGC-5140 Square Braid: Square Braided Packing Rope
Sizes: 1/4″, 3/8", 1/2″, 5/8", 3/4″, 7/8", 1", 1-1/4", 1-1/2", 2", 3"
SGC-5150 Round Braid: Round Braided Packing Rope
Sizes: 1/4″, 3/8", 1/2″, 5/8", 3/4″, 7/8", 1", 1-1/4", 1-1/2", 2", 3"
SGC-5160 Sleeving (Tube): Wall thickness: 1/16" (.080"); 1/8" (.120")
Standard size: 1/2″, 5/8", 3/4″, 7/8", 1", 1-1/4", 1-1/2"