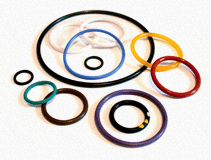 O-RINGS
An O-Ring is a simple and versatile sealing device with a circular cross section. O-Rings function as compact and reliable sealing devices by absorbing the tolerance stackup between closely mated surfaces in both dynamic and static applications. Popular profiles are: O-RING SOLID ROUND, X-SHAPE
(QUAD RING) SQUARE SHAPE and HOLLOW ROUND.
Popular Compounds include: (see Tech Center for compound details)
NITRILE (BUNA-N)
EPDM (ETHYLENE-PROPYLENE)
SILICONE
VITON (FLUOROCARBON)
PERFLUOROELASTOMER (KALREZ)
TEFLON
TFE ENCAPSULATED
NEOPRENE
HNBR
URETHANE
FLUOROSILICONE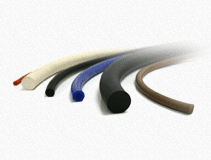 O-RING CORD & CUSTOM VULCANIZED O-RINGS
O-Ring cord is supplied as a continuos extruded cord. O-Ring cord can be used to fabricate custom O-rings to meet specific applications where standard O-ring sizes are not vailable. Available in Inch and Metric sizes in materials listed above including FDA Ntrile, Isoprene, SBR and Latex. In addition to standard O-Ring cord the following profiles are also available in various compounds.
SQUARE
RECTANGULAR
QUAD
U-CHANNELS
TUBING
SPONGE (ROUND)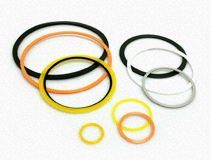 BACK UP RINGS
Back-up rings are washer-like devices that are used to prevent a seal from extruding through any gaps while under pressure. Back-up rings are not seals themselves, but are usually used in conjunction with O-rings in high-pressure applications. Popular materials are, 90 Duro Nitrile, urethane and teflon.
O-RING KITS
O-ring kits available as standard or customized offering you the flexibility and versatility to meet most requirements.
O-LUBE & SUPER O-LUBE
O-RING LUBRICANTS: Parker provides two lubricants for installation of O-Rings: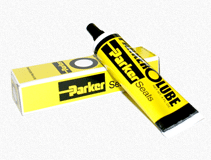 PARKER O-LUBE
is a petroleum-based grease recommended for use with polyacrylate, Vamac, neoprene, fluorosilicone, nitrile, HNBR, polyurethane, fluorocarbon, Aflas, Hifluor, and Parofluor o-ring material.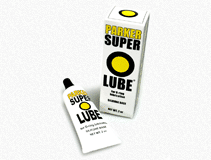 PARKER SUPER-O-LUBE
is a silicone fluid recommended for use with all rubber materials. Both lubricants are available in packages ranging from 0.5 cc ( the size of a ketchup packet ) to a 40 pound ( 5 gallon) pail.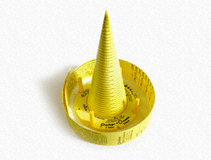 SIZING CONES & TAPE
The Parker size gauge for O-rings is a uniquely marked plastic cone with special cross-section measuring base and a separate "PI" tape. The device is used for checking any sample O-ring up to eight( 8″) inches in diameter to determine the nearest standard size.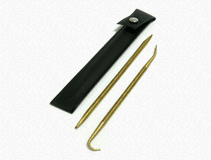 EXTRACTION TOOLS
Parker O-ring Installation and Extraction Tool Kit contains two unique double ended brass tools that help make life easier for the mechanic who must install or remove O-rings from hydraulic or pneumatic cylinders or other equipment. Brass tools prevent damage to precision sealing surfaces.Complete with plastic pocket case.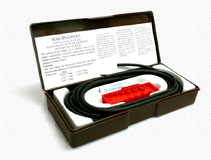 SPLICING KITS
Allows user to produce O-rings of any circumference. The kit contains the most popular Inch or Metric cross sectional size O-ring cord in 70 duro Nitrile, other compounds available on request. Kit also contains razor blade, splicing block and tube of adhesive.
EXTRUTIONS
From tubing to clip-on seals,we affer a wide variety of rubber extrusions. These include custom extruded profiles in continuous lengths or cut to length and intricate profile shapes per your specific requirements. Extruded products come in a wide range of compounds to meet various temperature, weather and technical specifications. These rubber materials include: ( some materials available in various colors).
BUTYL RUBBER
EPDM (dense and sponge rubber)
FLUOROELASTOMER / FKM
NEOPRENE (dense and sponge rubber)
NITRILE RUBBER
POLYISOPRENE
PVC
SILICONE (dense and sponge rubber)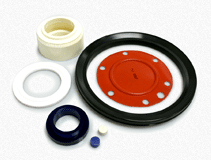 MOLDED PRODUCTS
Molded products are available in a wide variety of materials and shapes to meet your specific application.
ELASTOMER MATERIALS
PERFORMANCE PLASTICS
RUBBER TO METAL