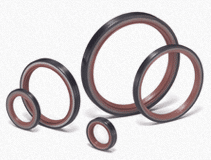 OIL & GREASE SEALS
Oil seals
are used to seal around a rotating shaft and keep an oil-based lubricant inside an axle, engine. Etc. Grease seals are used to seal more viscous grease lubricants in rotary shaft applications. For all automotive, motorcycle, agricultural and industrial equipment applications. Available in
a wide variety of styles, sizes( METRIC & IMPERIAL) and materials to fit your application. We offer leading quality brands such as:
TCM
JM CLIPPER
NOK
GARLOCK
AP EXCLUDER SEALS
AP seals are designed for low to moderate speed applications that require outstanding contamination exclusion. In many cases the AP seal can be customized to directly replace less capable shaft seals. For all types of applications in the Agriculture, Industrial, Turf and Off-Road Equipment the Ap is the ultimate excluder.
BATH SEALS
Our medium duty oil bath seals are intended for use in hubs of utility trailers, horse trailers, and medium duty service trucks. Bath seals offer a superior performance through the use of innovative technology such as:
Incorporation of a labyrinth style dust lip to seal out contaminants.
A rubber O.D. and I.D. to provide superior seating and sealing capabilities to the hub and shaft.
Incorporation of bi-directional hydrodynamic pumping aids on the primary sealing lip to pump oil back into the hub while reducing temperature and seal wear.
Pre-greased lips so that no additional grease is required during installation.
The grease also helps the sealing lip during the break-in period of the seal.
AXIAL FACE SEALS
Axial Face Seals attach to rotating shafts and seal axially against the counter-face. They can be used as either a primary or backup seal and do an excellent job deflecting foreign materials, especially at higher speeds. Axial Face Seals have a metal case which may serve as a deflector or to create a labyrinth. Typical applications include axles of trucks, trailers and off-road vehicles.
V-RINGS
V-Rings are all-rubber seals that can be stretched over fittings, flanges or other obstacles, and mounted directly on the shaft so that dis assembly is not required. V-Rings are installed on a rotating shaft and seal axially against the counter-face.V-Rings are typically used to supplement other seals by serving as deflectors.
END CAPS
End Caps are used to plug unused ports or access ports in oil-sealing applications, and are commonly used in gearbox cases with multiple shaft input / output compnations.
SHAFT-EZE (SLEEVES)
Shaft-Eze is a thin-wall flange, hard chromed stainless steel sleeve that slides over the worn section of a shaft in minutes creating a new shaft finish.
PTFE ENERGIZED SEALS (FLEXISEAL)
The Flexiseal is a spring-energized U-cup utilizing a variety of jacket profiles, spring types and materials in Rod & Piston, Face and Rotary seal configurations. Flexiseals are used where elastomeric seals fail to meet the temperature range, chemical resistance or friction requirements. Jacket profiles are made from PTFE and other high performance polymers. Spring types are available in corrosion-resistant metal alloys, including stainless steel, Elgiloy and Hastelloy.