SGC 5000 compressed non-asbestos gasket sheet
is manufactured through a proprietary hot calender process using nitrile rubber (NBR) binder, aramid fiber and other additives. SGC 5000 exhibits superior sealibility and excellent chemical resistance.
Product Applications:
SGC 5000 is a general service gasket material. Suitable application media includes: water, steam, waste water, petroleum products, oils, refrigerants, mild acids, mild alkalis etc.
Product Sizes and Options:
Thickness: 1/64", 1/32", 1/16", 1/8" Sheet Size: 60" X 60"
Technical Data:
Typical value for 2.0mm thickness
Color: Green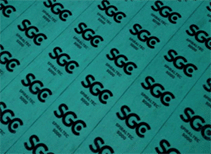 | | | |
| --- | --- | --- |
| Density | ASTM 1315 | 106 LBS/FT3 |
| Compressibility | ASTM F36/J | 8% |
| Recovery | ASTM F36/J | 45% |
| Tensile Strength | ASTM F152 | 7MPA |
| Creep Relaxation | ASTM F38B | 20% MAX |
| Sealability | ASTMF37A | 0.05 MI/MIN |
| Thickness Increase | ASTM F146 (FUEL B 5H/23°C) | 5% MAX |
| Weight Increase | ASTM F146 (FUEL B 5H/23°C) | 10% MAX |
| Max Working Temp | | 280°C/536°F |
| Continuous Temp with Steam | | 180°C TO 220°C/356°F TO 428°F |
| Pressure: 80 BAR / 1160 PSI | | |