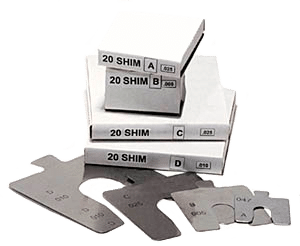 SHIM-RITE PRE-CUT SLOTTED SHIMS
SHIM-RITE pre-cut shims are uniformly die-cut from corrosion resistant stainless steel engineered to perfection. Consider the following features.
Designed to accomodate most commonly used Pumps, Turbines, Compressors, Electric Motors, etc.
SHIM-RITE pre-cut shims come in four standard sizes A, B, C & D, and are available in the following thicknesses:
.001″, .002″, .003″, .004″, .005″, .010″, .015″, .020″, .025″, .050″, .075″, .100″ and .125″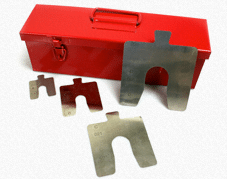 SHIM-RITE SHIM KITS
are available in total of 7 different sizes A, B, C & D as per above, and three special size kits:
E – size 6″ x 6″ shims with 1-7/8″ bolt slot
G – size 6″ x 6″ shims with 2-1/4″ bolt slot
H – size 8″ x 8″ shims with 2-1/4″ bolt slot
All kits contain 13 thicknesses neatly packaged in a sturdy steel box with marked dividers to keep shims neatly in place. STANDARD KIT contains 20 of each thickness and MINI-KIT contains 10 of each thickness.
SHIM-RITE REPLACEMENT PACKS:
All sizes are available in replacement packs 20 shims per pack.
SHIM STOCK ROLLS
SHIM STOCK ROLLS available in: STAINLESS, BRASS & CARBON STEEL.
Precision rolled to assure accuracy. Shim stock is available in thicknesses of .001″ to .031″, roll width of 6″ and 12″ (12″ rolls only in Carbon Steel)
PLASTIC SHIM STOCK
Plastic Shim Stock, color coded plastic shim stock in thickness from .0005″ to .060″. Each thickness is color-coded to provide users with an accurate, reliable recognition of thickness for ease of use. Material can be supplied in sheets and/or rolls depending on thickness. Standard sheet size is 24″ x 50″ and 24″ x 48″ for .025″ and above.
D & D can also supply fabricated plastic shims and gaskets to your specifications: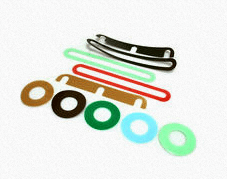 PLASTIC SHIM COLOR CHART
| Thickness | Colour |
| --- | --- |
| 0.0005″ | Clear |
| 0.001″ | Amber |
| 0.0015″ | Purple |
| 0.002″ | Red |
| 0.003″ | Green |
| 0.004″ | Tan |
| 0.005″ | Blue |
| 0.006″ | Clear |
| 0.0075″ | Transmatte |
| 0.010″ | Brown |
| 0.012″ | Black |
| 0.015″ | Pink |
| 0.020″ | Yellow |
| 0.025″ | White |
| 0.030″ | Coral |
| 0.060″ | Translucent |